As seniors age, maintaining their independence and safety becomes paramount. Among the various tools at their disposal, adjustable bed rails for seniors stand out as a crucial aid in preventing falls during the night. This comprehensive guide delves into the nuances of different adjustable bed rails, their installation nuances, and the potential for Medicare coverage—a question on many seniors' minds.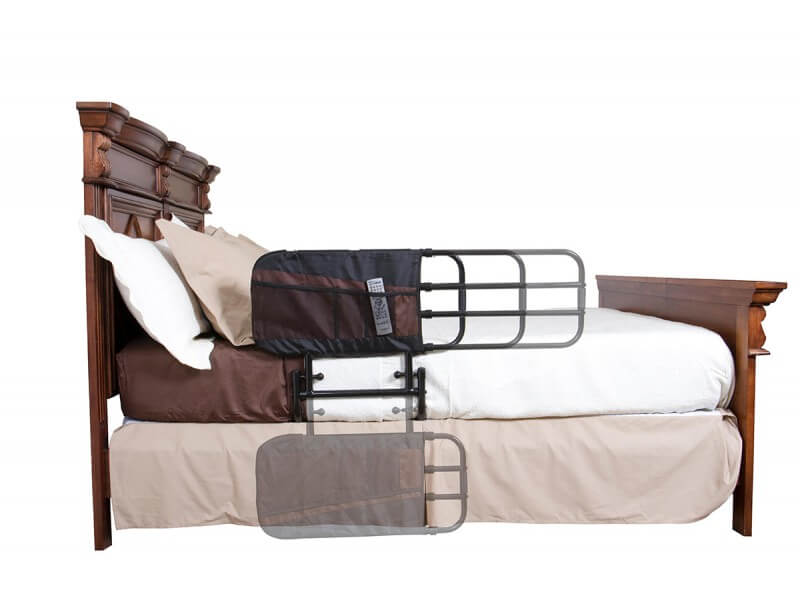 Understanding the Different Types of Adjustable Bed Rails for Seniors
The market offers a diverse range of adjustable bed rails designed to cater to individual needs, including fixed bed rails for robust stability, swing-down bed rails for ease of access, and telescoping bed rails for adaptable length. Each type is engineered with the senior user in mind, whether they sleep on a California king or a motorhome mattress.
The Step-by-Step Installation Process for Adjustable Bed Rails
Installing your adjustable bed rail can be a straightforward task. Whether you're fitting a rail to a full-size mattress or a specialized Tempurpedic setup, the key steps involve accurate measurement, adhering to the manufacturer's guidelines, and performing a rigorous safety check to ensure the rail is secure. The installation process for adjustable bed rails is relatively straightforward:
Measure the bed size and select the appropriate bed rails accordingly.
Follow the manufacturer's instructions to attach the bed rails to the bed frame or mattress.
Ensure the rails are securely fastened and do not wobble when pressure is applied.
In some cases, professional installation may be necessary to ensure the bed rails are safely and securely attached.
Navigating Insurance and Medicare Coverage for Adjustable Bed Rails
When it comes to financial considerations, understanding insurance policies is vital. One question that often arises is, "Will Medicare pay for adjustable beds and their rails?" The answer varies, but we'll guide you through the process of checking with your provider and securing the necessary documentation for potential coverage.
Medicare and Adjustable Beds
Original Medicare does offer coverage for adjustable beds as part of a beneficiary's Part B benefits. Part B offers coverage on durable medical equipment (DME), which includes adjustable beds. Medicare will pay for 80% of the cost of an adjustable bed after you have met your Part B deductible. However, this does not apply to just any bed on the market, and there are requirements that must be met.
For Medicare coverage to apply, the bed must be purchased from a supplier that accepts Medicare assignments. Also, you may be offered the option to either rent or purchase the bed. As a general rule, Medicare Part B will cover basic hospital beds. However, additional items may also be covered if your doctor says that they are medically necessary.
Securing Necessary Documentation for Coverage
In order for a claim for Medicare benefits to be valid, there must be sufficient documentation in the provider's or hospital's records to verify the services performed were "reasonable and necessary" and required the level of care billed.
If you need more information on coverage, contact the Medicare Administrative Contractor (MAC) who published the document. If your Medicare claim was denied, you can use the MCD Search and enter your information in the "Enter keyword, code, or document ID" box.
Understanding Insurance Policies
Every insurance plan covers DME differently, so make sure you understand the costs ahead. Typically, DME eligibility requires prior authorization from a provider if the medical equipment costs over a certain amount. You will need to get a written notice or prescription from your primary care physician or other medical professional.
In many cases, insurance plans could cover the cost of medical supplies. For an insurance company to cover a product, it usually needs to be considered medically necessary. In order for any product to be considered medically necessary, a healthcare professional must confirm that the supplies are needed for treatment.
Understanding Medicare's coverage for adjustable beds and their rails can be a complex process, but with the right information and guidance, you can navigate it successfully. Always remember to check with your provider and secure the necessary documentation for potential coverage.
Exploring the Functionality and Benefits of Adjustable Bed Rails for Seniors
可调节的床栏是一种坚固的支撑机制,对于需要行动协助的老年人来说至关重要。这些导轨可容纳各种床,包括专为房车设计或配备 Casper 或 Nectar 等床垫的床。
The Advantages of Implementing Adjustable Bed Rails in Senior Care
The use of adjustable bed rails goes beyond mere safety; it encompasses comfort and adaptability. These rails not only prevent potential falls but also offer support tailored to conditions such as GERD or snoring, enhancing overall sleep quality. There are numerous benefits to using adjustable bed rails, including:
Enhanced safety: With a strong handhold within easy reach, seniors can confidently get in and out of their beds without fear of falling.
Increased comfort: Adjustable bed rails also provide additional support during sleep by preventing individuals from rolling off the side of the bed while sleeping.
Versatility: These railings come in various lengths to accommodate any size mattress.
Easy installation: Most models do not require tools as they easily fit under most mattresses or box springs with secure tension locks.
However, it is essential to note that adjustable bed rails should only be used as an aid when getting into or out of bed. They should not be used as restraints, as lean-on pressure may induce entrapment accidents, leading to significantly injurious consequences.
Our Top Recommended Adjustable Bed Rails for Seniors
Our curated selection of adjustable bed rails includes models like the EZ Adjust Bed Rail and the Stander Mobility Adult Home Bed Rail—both offering versatility and ease of installation on various mattress types.
Standers EZ Adjust Bed Rail: The EZ Adjust Bed Rail by Standers is a highly-rated choice on InnMattress due to its versatile length adjustment (from 26"–42"), accommodating different mattress sizes, and its stable yet straightforward installation.
Stander Mobility Adult Home Bed Rail: Another quality product from Standers is the Mobility Adult Home Bed Rail, designed for seniors or individuals with limited mobility. It comes with an extra support handle and can be adjusted in length to fit specific bed sizes.
Drive Medical Home Bed Assist Handle: The Drive Medical Home Bed Assist Handle is another excellent option that provides durable steel construction with a tool-free assembly process requiring no additional tools than the ones already attached to it.
Conclusion
Adjustable bed rails are an excellent investment for seniors who want to maintain their independence while staying safe and comfortable while sleeping. Whether you're caring for a senior loved one or looking to make your own bedtime routine safer, adjustable bed rails are worth considering. Remember always to consult primary doctors before adding products like these—ensure they approve their utilization since every situation has unique needs and medical considerations. For more information on choosing the right mattress for your specific health needs, visit this comprehensive guide on InnMattress.
FAQs
Are adjustable bed rails safe for seniors?
Yes, adjustable bed rails are safe for seniors as long as they are used properly and installed correctly. These bed rails can help prevent falls and provide support when getting in and out of bed. However, it is important to choose the right size for the mattress and follow manufacturer's instructions carefully.
What are the benefits of using an adjustable bed rail for seniors?
Adjustable bed rails can offer several benefits to seniors such as improved comfort, increased safety, enhanced mobility, and easier access in or out of the bed. They also provide a sense of security which helps them fall asleep more easily and reduce anxiety about falling out of the bed.
Can adjustable bed rails be adjusted according to specific needs?
Yes, most adjustable bed rails come with different settings that allow users to adjust them according to their specific needs such as height or width adjustments. Some models even feature extensions that can be added or removed based on individual preferences or changing medical conditions like arthritis or soreness in certain body parts like necks shoulders etc..