When considering the best hotel mattresses, you'll want to keep a few things in mind. Naturally, everyone wants to get a good price on the mattresses they're buying, and you can find excellent mattresses under $2000, including some budget-priced gems. However, money isn't the only factor that needs to go into your decision.
You'll also need to consider durability. Mattresses take a beating, so you'll want a durable mattress that can stand up to use night after night.
You'll also want to think about your comfort. Finding the most comfortable mattress means you'll want to get the right mattress material and the right firmness level.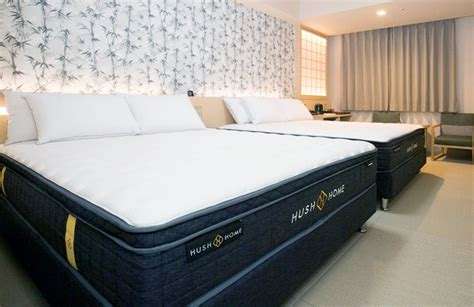 Material
The material your hotel mattress is made of determines a large part of its feel. Ideally, you want a versatile type of mattress that offers tons of comfort but also stands up to harder use.
Aside from the bed's feel, there may be other properties to consider. For example, some bed types establish a better hypoallergenic mattress for allergies than others.
Innerspring
Innerspring mattresses typically do not make the best hotel mattresses. Newer sleep technologies significantly improve a lot of the issues with this older sleep technology. Innerspring mattresses don't contour well and have motion transfer issues.
However, there are a few reasons you might want to choose an innerspring mattress. These mattresses are still the most popular mattress type, and some people find their familiarity comforting. Innerspring mattresses are also among the most affordable mattresses, which can be very tempting to budget shoppers.
Hybrid
Hybrid mattresses have a lot to offer. They're extremely adaptable, so they're versatile enough to keep you comfortable regardless of your sleeping position or body type. They're also responsive and cool.
Best of all, they're a lot more durable than open coil mattresses. So if you want a coil mattress that can take a beating, hybrids are the way to go.
There are some downsides, though. Hybrid mattresses are among the most expensive mattress types, though a few can be found among the best mattresses under $1000. They're also less durable than most all-foam mattresses, though they are more durable than innerspring ones.
Memory Foam
Memory foam mattresses can be a good choice for your hotel rooms, as long as you keep a few things in mind. Memory foam is durable, affordable, and adaptable. So it will keep you comfortable without lightening your wallet too much.
However, the wrong memory foam mattress can leave you uncomfortable and unhappy. That's why you'll want to get a cooling mattress with open-cell construction or gel infusions. You'll also want to consider a memory foam mattress with technologies to increase responsiveness.
Our memory foam mattress buying guide goes into more depth about this type of mattress for shoppers who are interested.
Latex Foam
Natural latex has a lot going for it, meaning latex mattresses can make for a fantastic hotel experience. For instance, it's the most durable mattress material. So it can stand up to years of use.
Latex is also the only material you can use if you want an organic mattress. The biggest issue with latex is its expense. Natural latex foam is the most durable mattress material, but it's also the most expensive. That means you'll be paying less in the long run but way more upfront.
Firmness Level
When searching for a hotel-like mattress, keep in mind that hotels try to accommodate the largest number of sleepers. That means you don't want an overly soft or firm mattress.
Typically, the ideal firmness for hotels would be medium. Medium mattresses offer an equal balance of support and cradling. That means they can comfortably accommodate the numerical majority of sleepers for a few nights.
Medium-firm mattresses are another good option. These mattresses offer more support than cradling without sacrificing all the pressure relief. That means they're a good alternative to true medium mattresses if you think you would appreciate a little more lift.
Feel
The ideal skin temperature for sleep is 88 degrees. That means you'll want to snag a mattress with lots of cooling technologies to keep you icy cool. Few sleepers enjoy slow response times in their beds, so you'll want to make sure to get a mattress that bounces back into place as soon as the sleepers move.
Price and durability
It's easy to be tempted to grab the cheapest mattress you can get away with. However, that may not always be the best idea. Mattresses at the lowest price are typically not the best quality and can mean waking up with sore backs or necks. Still, there are a number of well-made, comfortable budget mattresses to consider.
You also have to think about durability. Mattresses with a high initial price can become more affordable if they're highly durable. You pay less year over year for a more expensive, more durable mattress than you do for a cheaper, less durable mattress. That's something to consider when deciding how much you want to pay upfront.
Should a hotel mattress have a pillowtop?
A pillow top is a layer of extra padding sewn on top of the mattress comfort layer. This extra padding can be made of cotton, wool, foam, or other plush materials. Euro tops are sewn under the mattress cover, while regular pillow tops are sewn on top of the mattress cover. That means a euro top will offer a more luxurious look than a standard pillow top.
Either way, a pillow top is an extra layer of luxury that doesn't cost a whole lot extra. It will give you more cushioning and pressure relief without changing the overall support of the mattress. So a mattress with a pillow top could be a good purchase for you, especially if you want your bed to have a luxe feel.
What is the best mattress type for a luxury hotel sleep experience?
If you want to have a truly luxurious sleep experience, we'd recommend a top-of-the-line hybrid mattress. Hybrid mattresses offer all the pressure relief and contouring of foam mattresses and all the bounce and cooling of an innerspring mattress. Gel memory foam and latex hybrids are the way to go for the coolest sleep.
Latex mattresses are also a great option for a luxury feel. These mattresses offer delightful springiness and high breathability. Talalay latex is also just as light and contouring as memory foam. So it will give you a highly customized sleep experience. Natural Dunlop latex is also the way to go if you want the experience of organic mattresses.
Which firmness level is best for a hotel mattress?
When choosing a mattress that mimics the feel of a hotel, you'll want to get a firmness level that's highly versatile and can accommodate multiple sleeping positions. A true medium mattress is your best bet. Mediums can accommodate a variety of sleep positions and body types, and they're the most likely to keep the majority of you comfortable.
Medium-firm mattresses are also a good option. These mattresses offer a bit more support than cradling, and they'll keep you lifted onto the sleep surface. Medium-firm mattresses are especially good for heavier sleepers, back sleepers, and those with back pain.
A medium-firm mattress may also be a good choice for couples, as its enhanced lift can better support two sleepers.
Are innerspring mattresses good for a hotel room?
Innerspring mattresses are the most common hotel mattresses because they're typically the cheapest option. However, they do have a few problems. For instance, innerspring mattresses are typically the least durable option. So they'll break easier when they're subjected to abuse by sleepers. They'll also just wear out faster, even if they don't break.
Innerspring mattresses might not be the best choice for anyone who wants to make their home feel like a hotel room. They're not very contoured. They have problems with motion transfer. And they can become noisy over time. For all these reasons, you may want to consider a hybrid mattress if you want more comfortable sleep.
Is an online mattress a good choice for a hotel bed?
An online mattress could be a great choice. They often come with longer warranties than traditional mattresses. They also tend to be more on the cutting edge of sleep technology. So you might find things like gel memory foam, microbeads, and other cooling technologies more easily.
Another great thing about getting a mattress online is that you can usually expect to pay less than you would with in-store purchases. If you purchase something in a store, you're typically paying their overhead. Online mattress companies cut out the middleman and give you direct access to the product, which can usually make it cheaper.