Swayback, also known as lordosis, is a condition where the lower back curves inward more than normal. If you suffer from swayback, finding the right mattress can be essential in reducing pain and discomfort. In this article, we'll take a look at some of the top mattresses on the market today that are designed to provide relief for people with swayback.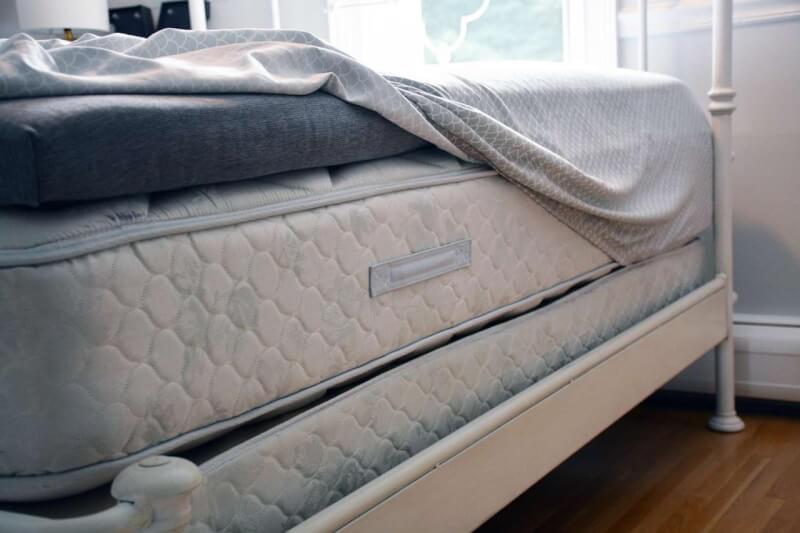 What is Swayback?
Before we dive into our list of top mattresses, it's important to understand what swayback is and how it can affect your sleep. Swayback occurs when there is an excessive curvature in the lumbar spine – or lower back – which causes an inward curve that puts pressure on spinal discs and joints.
This can lead to pain and discomfort in the lower back area when lying down or sitting for long periods of time. Sleeping on a mattress that doesn't provide proper support can exacerbate these symptoms further.
What Makes a Mattress Good for Swayback Relief?
When looking for a mattress that provides relief for swayback sufferers, there are several key factors to consider:
Support: A good mattress should provide ample support for your body weight and help keep your spine aligned properly.
Firmness: While too firm may cause pressure points, too soft may not offer enough support. A medium-firmness bed may be best.
Material: Different materials offer different levels of comfort and support depending on your needs.
Pressure relief: Look for contouring properties that help evenly distribute body weight across the surface of the bed.
Temperature regulation: People suffering from swayback tend to sleep hot so look out for cooling features like gel-infused foam layers or breathable covers.
With these factors in mind, let's take a look at some of our top picks.
1. Casper Wave Hybrid
The Casper Wave Hybrid mattress is a medium-firm, hybrid mattress that offers exceptional support for people with swayback. Its unique design features gel-infused foam layers and contouring zones for ultimate pressure relief. This mattress also includes zoned support technology which provides extra support to the lower back where it's needed most.
The Casper Wave Hybrid also has great temperature regulating properties thanks to its open-cell foam layer and breathable cover made from recycled materials.
2. Saatva Classic Mattress
The Saatva Classic Mattress is a high-quality innerspring mattress that comes in three firmness options – plush soft, luxury firm, and firm – making it an excellent choice for those looking for customized comfort levels based on their individual needs.
This bed's supportive coils help reduce pressure points while providing ample lumbar support, and its Euro-top cushioning contours perfectly to the shape of your body. The added bonus of this mattress is its eco-friendly construction; all materials used are environmentally responsible.
3. Nolah Original 10″
Nolah Original 10″ is a foam-based all-foam bed designed specifically to provide maximum pressure relief while alleviating pain caused due to swayback condition.This one-of-a-kind memory foam formula allows the sleeper's body weight to distribute evenly across the surface of the bed without causing too much sinkage or sagging.
Moreover,this bed easily conforms to each person's curvature allowing better spine alignment while sleeping.The company uses proprietary cooling properties in their foams resulting in cooler sleep experience even after continuous usage throughout night hours.
4.WinkBed
The WinkBed is an innovative hybrid mattress that combines individually wrapped coils with high-density foam layers designed particularly for those suffering from chronic back pains or any kind of spinal issues.These multiple layers offer excellent spinal alignment as well as quality comfort sans sacrificing edge-to-edge stability.
What makes this product different from others available in the market is its adjustable firmness levels catering to customer preferences.The lumbar pad addition at the base of mattress helps alleviate pressure from back area making it perfect for people with swayback.
5. Helix Midnight Luxe
The Helix Midnight Luxe mattress is a medium-firm hybrid bed that's equipped with zoned support technology.This tailored zoning feature ensures maximum spinal alignment while sleeping and drastically improves sleep posture which ultimately reduces lower back pain caused due to swayback condition.
This luxurious model also incorporates Memory Plus foam in their uppermost layer which offers body contouring experience, reducing motion transfer while providing proper cushioning during sleep hours.Thanks to its breathable cover made from ultra-breathable materials, this mattress provides optimal temperature regulation no matter your sleeping position.
Conclusion:
Choosing the right mattress when you have swayback can be a daunting task.There are different options available in the market each offering unique features that satisfy specific requirements.To avoid regretful purchase,it's important to evaluate potential mattresses keeping in mind personal comfort and medicinal needs.Our top picks here make it easier for readers suffering from SwayBack issues by offering long-lasting support without causing extra burden on wallet. The above-mentioned mattresses offer excellent spinal alignment as well as optimum comfort which ultimately results in better quality sleep helping reduce pain disparities caused due to chronic conditions like Swayback.
FAQs
What is swayback posture and how can it cause back pain?
Swayback posture is a type of postural distortion in which the pelvis tilts forward and the lower back curves inward excessively, causing the upper body to lean backward. This can result in tension and strain on the muscles of the lower back, leading to chronic pain and discomfort.
Can sleeping on a good mattress help alleviate swayback-related back pain?
Yes, sleeping on a good mattress that provides adequate support and pressure relief can help alleviate swayback-related back pain by promoting proper spinal alignment and reducing pressure points in areas such as the hips and shoulders.
What are some of the top mattresses recommended for swayback relief?
There are several mattresses that have been specifically designed to provide comfort and support for people with swayback posture. Some popular options include:
The Saatva Classic mattress
The Casper Wave Hybrid mattress
The Purple Hybrid Premier mattress
These mattresses use a combination of supportive coils or foam layers along with pressure-relieving materials like latex or memory foam to provide optimal support while minimizing pressure points. Ultimately, finding the best mattress for your individual needs will depend on factors such as your weight, sleeping position preference, budget, and personal preferences when it comes to things like firmness level or cooling technologies.