Every sleeper deserves a comfortable and supportive mattress, regardless of their body size. For plus-size individuals, finding a mattress that provides the right balance of comfort and support can be a challenge. Here at InnMattress, we have researched and compiled a list of the top 7 mattresses specifically designed for plus-size sleepers. These mattresses offer enhanced durability, proper spinal alignment, and optimal pressure relief. So, let's dive into the details!
1. Nectar Premier Copper: Superior Support and Durability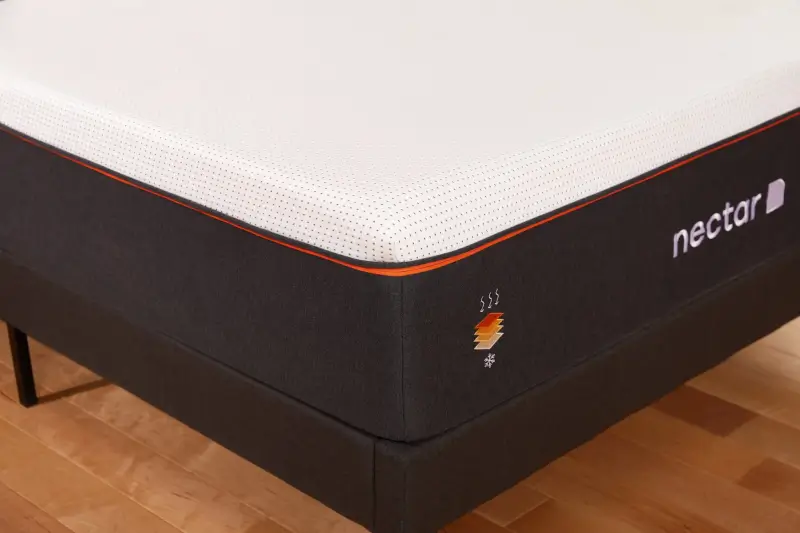 High-density foam layers for extra support
Reinforced edges for increased durability
Medium-firm feel for optimal spinal alignment
With 5 layers of memory foam that mold to the body, the Nectar Premier Copper gives plus-size sleepers the right amount of support and comfort. The copper-infused foam layer helps regulate temperature, ensuring a cooler night's sleep.Nectar Premier Copper offers a medium-firm feel, providing a perfect balance of comfort and support for plus-size sleepers. The high-density foam layers and reinforced edges ensure durability and longevity. Uncover the secret to choosing the perfect mattress for your health needs by considering a mattress like Nectar Premier Copper.
2. Saatva HD: Cooling and Pressure Relief
Gel-infused memory foam for temperature regulation
Zoned support system for targeted pressure relief
Breathable cover to keep you cool and dry
The Saatva HD is made for people who are bigger than average. It has both innerspring and foam layers for the best comfort and support. Its zoned support system ensures proper spinal alignment, while reinforced edges provide added durability.For those who tend to sleep hot, Saatva HD offers gel-infused memory foam and a breathable cover for effective temperature regulation. The zoned support system provides targeted pressure relief where plus-size sleepers need it most. Check out our ultimate guide to memory foam mattresses for more information on the benefits of gel-infused memory foam.
3. WinkBeds Plus: Hybrid Construction for Balanced Comfort
Individually wrapped coils for motion isolation
Contouring memory foam layer for pressure relief
Enhanced edge support for improved durability
WinkBeds Plus is a hybrid mattress that combines the best of both innerspring and memory foam technologies that helps relieve pressure and gives support to people who are plus-size. Its extra-edge support system and lumbar support pad give you support where you need it, so you can sleep well.  The individually wrapped coils provide motion isolation, while the contouring memory foam layer offers pressure relief. Explore the ultimate guide to buying a hybrid mattress to learn more about this type of mattress.
4. DreamCloud Premier: Natural Latex for Eco-Friendly Comfort
100% natural latex for a hypoallergenic sleep surface
Responsive and supportive feel for proper spinal alignment
Sustainable and eco-friendly materials
The 6-layer hybrid design of the DreamCloud Premier combines the best parts of both memory foam and innerspring technology. Its cooling gel memory foam helps relieve pressure, and its reinforced edge support makes sure it will last for a long time. For eco-conscious sleepers, DreamCloud Premier is made from 100% natural latex, offering a hypoallergenic and sustainable sleep surface. Discover why latex mattresses are growing in popularity and consider DreamCloud Premier as an eco-friendly option for plus-size sleepers.
5. Big Fig: Customizable Firmness for Personalized Comfort
Dual-sided design with adjustable firmness levels
High-quality materials for durability and support
Suitable for a variety of sleeping positions
Big Fig is made for people who are bigger than average. It has high-density foam and reinforced coils to give you the most support. Its 3-layer foam construction ensures optimal pressure relief and comfort.Big Fig offers a dual-sided design with adjustable firmness levels, allowing plus-size sleepers to find their perfect comfort level. Its high-quality materials ensure durability and support, making it suitable for a variety of sleeping positions. Learn more about how to choose the right mattress size to ensure the best fit for your needs.
6. Helix Plus: Cooling Technology for Hot Sleepers
Advanced cooling technology for temperature regulation
Breathable materials to promote airflow
Supportive and pressure-relieving construction
Helix Plus is a hybrid mattress that gives plus-size sleepers the right amount of support and comfort. Its extra support system makes sure that your spine is in the right place, and its cooling technology helps keep you at a comfortable temperature. For hot sleepers, Helix Plus features advanced cooling technology to regulate temperature and promote a comfortable sleep environment. The breathable materials used in its construction help maintain proper airflow, while still providing the necessary support and pressure relief. Check out our recommendations for the best cooling mattresses for hot sleepers to find the perfect match.
7. Tempur-Pedic ProAdapt: Adaptive Foam for Superior Comfort
Adaptive foam construction for personalized comfort
Suitable for all sleeping positions
Enhanced edge support and motion isolation
Tempur-Pedic ProAdapt is made with adaptive foam, which conforms to the body and provides personalized comfort for plus-size sleepers. This mattress is suitable for all sleeping positions and offers enhanced edge support and motion isolation. For more information, visit our guide on responsiveness in a mattress to learn about the benefits of adaptive foam.
Conclusion
Finding the perfect mattress for plus-size sleepers can be challenging, but with the right information and a focus on support, comfort, and durability, you can make an informed decision. Remember to consider factors like mattress type, firmness, and additional features that cater to your specific needs. By choosing one of the top 7 mattresses listed above, you'll be on your way to a comfortable and supportive night's sleep.
For more information on choosing the perfect mattress for your health needs, visit our comprehensive guide on uncovering the secret to choosing the right mattress. Don't forget to check out our other mattress recommendations, such as the best mattresses for chronic pain and the best mattresses for sleep apnea to help you find the perfect sleep solution for your unique needs.
Remember, investing in a high-quality mattress is essential for a good night's sleep and overall well-being. So take your time, do your research, and find the perfect mattress that will ensure comfort and support for your body.