As we age, our bodies undergo numerous changes, one of the most common being increased joint pain and stiffness, especially in individuals with arthritis. A good night's sleep on a supportive mattress can significantly alleviate this pain and provide maximum comfort for your joints. This comprehensive guide introduces some of the top mattresses on the market designed specifically to relieve arthritic joint pain. We'll delve into their features, materials, firmness levels, pressure relief capabilities, motion isolation abilities, temperature regulation methods, and edge support attributes.
Understanding Arthritis and Its Impact on Sleep
Arthritis is a term that encompasses over 100 conditions related to joint inflammation and chronic pain. The type of arthritis can be caused by a physical injury, bacterial infection, or another underlying disease or condition. Some forms of arthritis, such as rheumatoid arthritis, have unknown causes. Arthritis can significantly affect sleep, with chronic joint pain leading to non-restorative sleep. This can result in daytime fatigue, trouble focusing, and mood swings. Therefore, individuals with arthritis generally require a mattress that provides a flat, even surface and close conforming to alleviate pain and pressure in their sensitive areas.
Key Mattress Considerations for People with Arthritis
When shopping for a new mattress, people with arthritis should consider several factors:
Support: The mattress should maintain a flat, level surface beneath the sleeper's body. Excessive firmness or softness can reduce support.
Conforming Ability: Some mattresses mold to the contours of a sleeper's body, helping align the spine and alleviate pain and pressure in sensitive areas.
Firmness: The softness or firmness of the mattress can affect different sleepers. The three general categories for mattress firmness are soft, medium, and firm.
Durability: The average mattress will perform for at least six years. However, some mattresses are susceptible to sagging and indentations after a few years, which can increase pain and pressure for sleepers.
Motion Isolation: People with arthritis often experience chronic joint pain that makes them more sensitive to motion in bed. Some mattresses are designed to absorb and isolate motion to certain areas of the sleep surface.
Noise: Some mattresses produce little to no noise when bearing weight, but others feature coils, electrical components, and other parts that can creak, squeak, or rattle.
Temperature Neutrality: Some types of arthritis can make people sensitive to heat or cold. Mattresses that are temperature-neutral will not sleep excessively warm or cool.
Ease of Movement: Chronic pain can cause people to roll over in their sleep and shift positions throughout the night. Mattresses that offer little resistance tend to be the most comfortable option.
Top Mattress Picks for Arthritic Joints
Based on the information gathered, here are some of the top picks among the best mattresses for those with arthritic joints:
Saatva Classic Mattress
Price Range: $1,995 – $1,696 (Save $299)
Mattress Type: Hybrid Innerspring
Firmness Options: Plush Soft (3), Luxury Firm (5-7), Firm (8)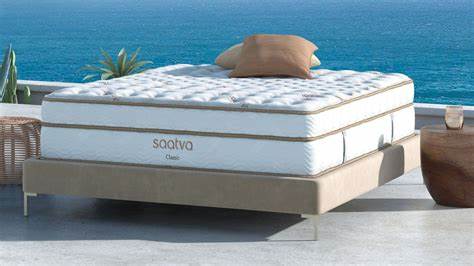 Pros
Plush Comfort Layers: The 3″ Euro pillow top offers cushioned comfort and pressure relief.
Durable Design: Made of recycled carbon steel, the dual-coil design is tempered three times for durability.
Supportive Structure: Patented Lumbar Zone® Technology provides extra support for healthy spinal alignment.
Breathable Material: Organic cotton cover promotes cooler, healthier sleep.
Eco-Friendly: No toxic chemicals or flame retardants used.
Cons
Price: Higher upfront cost compared to other mattresses.
Limited Firmness Options: Only three firmness levels available.
Bottom Line
The Saatva Classic Mattress is a top-tier hybrid innerspring mattress that offers a luxurious sleep experience. Its plush Euro pillow top, durable dual-coil design, and patented Lumbar Zone® Technology make it an excellent choice for those seeking comfort, support, and durability. While the price may be on the higher side, the quality and benefits you receive make it a worthwhile investment.
How It Performed
For Different Sleep Positions
Side Sleepers: The Plush Soft option is ideal, offering extra pressure relief on the hips and shoulders.
All Sleep Positions: The Luxury Firm is designed to replicate the feel of luxury hotel beds and is suitable for couples who can't agree on firmness.
Stomach & Back Sleepers: The Firm option provides balanced resistance without being hard on the back and joints.
Temperature Regulation
The mattress features a naturally breathable cover made with organic cotton, along with a dual-coil design that allows more airflow. This helps in dispersing body heat, making it an excellent choice for those who tend to sleep hot.
Durability and Support
The mattress is constructed with a responsive dual-coil design made of recycled carbon steel that is tempered three times for superb durability. This ensures that the mattress won't sag over time, providing long-lasting support.
Eco-Friendly Features
The Saatva Classic Mattress is treated with an exclusive Guardin™ botanical antimicrobial treatment and uses a natural, plant-based thistle pulp flame barrier. This makes it a more eco-friendly option compared to mattresses that use toxic chemical flame retardants.
What It's Made Of
The Saatva Classic Mattress begins with a plush and breathable sleep surface featuring a 3″ Euro pillow top with Lumbar Zone® Quilting. The cover is made with naturally breathable and hypoallergenic organic cotton. Enhanced back support is provided through responsive coils that cradle your body, ensuring no sagging edges and promoting durable support for cooler sleep.
The Saatva Classic Mattress offers a luxurious, supportive, and eco-friendly sleep experience. Its multiple firmness options cater to a wide range of sleep preferences, making it a versatile choice for different types of sleepers. While the price point is a bit higher, the quality, durability, and comfort make it a worthy investment for a good night's sleep.
Amerisleep AS3 Mattress
Price Range: $1,049 – $2,096 (Save $450)
Mattress Type: Hybrid Innerspring
Firmness Options: Plush Soft (3), Luxury Firm (5-7), Firm (8)
Pros
Adaptable Medium Feel: Suitable for most body types and sleep styles.
Award-Winning Design: Recognized by USA TODAY, Sleep Foundation, and Healthline as a top mattress.
Enhanced Cooling: Features Refresh Cooling Technology for a cooler sleep.
Eco-Friendly: Made with plant-based Bio-Pur® material.
Long-Lasting: Backed by an industry-leading 20-year warranty.
Cons
Price: May be on the higher end for some budgets.
Not for Everyone: Those who prefer a very firm or very soft mattress may need to look elsewhere.
Bottom Line
The Amerisleep AS3 Mattress is not just a mattress; it's an investment in better sleep and, by extension, better health. With its medium feel, it caters to a wide range of sleep styles and body types. Its multiple awards and thousands of positive reviews make it a reliable choice for anyone looking to improve their sleep quality.
Product Details
What It's Made Of
The Amerisleep AS3 features a unique blend of materials designed to offer both comfort and support. At its core is the Bio-Pur® material, an eco-friendly, plant-based foam that is both breathable and responsive. This is layered beneath the Refresh Cover, a scientifically engineered fabric that not only keeps you cool but also improves circulation by converting body heat into far infrared energy.
Additional Features
HIVE® Transition Layer: Provides targeted support to ease tension and align your body perfectly.
Open-Cell Design: Allows more air to circulate, making it more breathable than traditional foam.
Certifications: CertiPUR-US® certified, low in VOCs, and resistant to dust mites, mold, and mildew.
How It Performed
Comfort and Support
The AS3's medium feel is its standout feature, making it versatile enough for back sleepers, side sleepers, and even stomach sleepers. The Bio-Pur® foam contours to your body, relieving pressure points without making you feel stuck.
Temperature Regulation
One of the most impressive features is its cooling technology. The Refresh Cover, made from a fiber with high energy transfer capabilities, can keep your sleeping surface up to 7 degrees cooler over an eight-hour night.
Durability and Warranty
Crafted with the highest quality materials and backed by a 20-year warranty, this mattress is built to last without sagging or developing soft spots.
If you're in the market for a mattress that offers a balanced blend of comfort and support, the Amerisleep AS3 is a top contender. Its medium feel makes it versatile, its cooling technology ensures a comfortable night's sleep, and its eco-friendly materials make it a responsible choice. With thousands of positive reviews and multiple awards, it's hard to go wrong with the AS3.
Loom & Leaf Mattress
Price Range: $945.00 to $2,540.00
Mattress Type: Memory Foam
Firmness Options: Plush Soft (3), Luxury Firm (5-7), Firm (8)
Pros
Exceptional Pressure Relief: The mattress excels in providing excellent contour and pressure relief, making it ideal for those with back or joint pain.
Cooling Technology: With a 9.5 cooling score, the mattress ensures you stay cool all night long.
Low Motion Transfer: Perfect for sensitive sleepers or couples, as it minimizes disturbances.
High-Quality Materials: Features an organic, euro-cotton cover and cooling gel foam.
Long Trial and Warranty: Offers a 365-night trial and a 25-year warranty, which is above industry standards.
Cons
Limited Bounce: The mattress has very low levels of bounce, which may not be ideal for some activities like sex.
Edge Support: With 6.25″ of sinkage, the edge support could be better.
Price: Slightly costlier than the average memory foam mattress, priced at $2,108.
Bottom Line
The Loom & Leaf mattress is a luxurious memory foam option that excels in almost every category. Its exceptional pressure relief and cooling technology make it a standout choice. While it may be on the pricier side and lacks in bounce, the quality and benefits you get make it a fantastic value for the money.
Product Details
Type: Memory Foam
Firmness: Available in Medium (5.5) or Firm (8)
Price: $2,108
Warranty: 25 years
Trial: 365 nights
How It Performed
Comfort and Support
The Loom & Leaf mattress offers a unique blend of comfort and support. Its memory foam layers provide an extremely deep level of sinkage, measured at a maximum depth of 3.09″. This deep sinkage, combined with softer materials, allows for profound pressure relief. The mattress contours around the body, effectively relieving pressure points.
Cooling Performance
Despite being a memory foam mattress, which often tends to retain heat, the Loom & Leaf excels in cooling. It starts with a baseline temperature of 79.1° F and peaks at 87.6° F after 15 minutes of lying on it. Within 5 minutes of no activity, the temperature drops back to a comfortable 80.8° F. This is largely due to its Euro-style cover and gel foam top layer.
Motion Transfer and Responsiveness
The mattress has extremely low levels of motion transfer, making it ideal for couples or sensitive sleepers. It also boasts a very fast material response time of 0.6 seconds, meaning it quickly adapts to your movements.
Edge Support and Sex Performance
The edge support is fair but could be improved, especially for those who like to sit or sleep close to the edge. In terms of sex performance, the mattress scores an 8.9. While it offers exceptional pressure relief and cooling, its low bounce might not be ideal for everyone.
What It's Made Of
The Loom & Leaf mattress combines the best parts of memory foam, like great contouring and hug, with fantastic cooling. It features an organic cotton cover and cooling gel foam, making it a premium choice for those who value quality materials.
The Loom & Leaf mattress is a top-tier choice for anyone looking for a luxurious sleep experience. Its exceptional pressure relief, cooling technology, and low motion transfer make it a standout option. While it may lack in bounce and edge support, the overall performance and quality of materials make it a fantastic value for the money.
Helix Midnight Mattress
Price Range: $1,099 – $1,373.80 (20% off with code)
Mattress Type: Hybrid
Firmness Option: Medium Feel
Warranty: 10-Year Limited Warranty
Shipping: Free Shipping, Ships in 3-8 business days
Trial: 100 Night Sleep Trial
Construction: 13.5" Tall, 6 Layers
Cover Options: Breathe Knit Cover (Included), Optional GlacioTex™ Cooling Pillow Top
What It's Made Of
The Helix Midnight Mattress is a durable hybrid model with foam layers tailored to your sleep needs and preferences. It features a super soft, cooling, and naturally breathable TENCEL™ cover. The mattress is 13.5 inches tall and consists of 6 layers designed for pressure relief and targeted ergonomic support. For those who require extra cooling, the mattress offers an optional upgrade to the GlacioTex™ Cooling Pillow Top.
Pros
Medium Feel: The mattress offers a balanced feel that is neither too firm nor too soft, making it ideal for couples with different comfort preferences.
Pressure Point Relief: Designed to cushion the pressure points of your shoulders and hips, the mattress ensures less pain and more comfort.
Side Sleeper Support: The middle layers of the mattress are engineered to support your body contours, making it best for side sleepers or those who toss and turn at night.
Premium Cooling Covers: Choose between the included Breathe Knit cover or upgrade to the GlacioTex™ Cooling Pillow Top for enhanced heat dissipation.
Financing Available: With options for as low as 0% financing, the mattress is accessible for a wide range of budgets.
Cons
Price: While the mattress offers a range of features, the price may be a consideration for some buyers, especially without the discount code.
Limited Lumbar Support: Unlike its Luxe counterpart, the Helix Midnight does not offer targeted zoned lumbar support.
Bottom Line
The Helix Midnight Mattress is a versatile and comfortable option that caters to a wide range of sleepers. Its medium feel and pressure point relief make it particularly suitable for side sleepers. While it may lack some of the advanced features of its Luxe counterpart, it offers excellent value for its price, especially with the available discount. The 100-night sleep trial and 10-year warranty add an extra layer of assurance, making it a solid investment for quality sleep.
Conclusion
Choosing the right mattress can make all the difference when it comes to getting a restful night's sleep for those struggling with arthritic pain or any similar condition affecting your joints. In this guide, we've introduced you to four excellent mattress options – The Saatva Classic Mattress, Amerisleep AS3 Mattress, Loom & Leaf Mattress, and Helix Midnight Mattress–all designed specifically with arthritic patients in mind. Whether you prefer an innerspring bed or something more specialized like memory foam hybrids; our picks have been chosen based on their superior features such as optimal pressure point relief capability combined with excellent firmness levels and motion isolation properties making them ideal for those who suffer from joint pain disorders such as Arthritis.
FAQs
What type of mattress should I look for if I have arthritic joints?
If you have arthritic joints, it's important to look for a mattress that offers good support and pressure relief. Memory foam or latex mattresses can be a good choice because they conform to your body shape and provide targeted support where you need it most. Hybrid mattresses that combine foam layers with pocketed coils can also be a good option since they offer both contouring comfort and sturdy support.
Can a firm mattress help alleviate arthritis pain?
While some people find relief with firmer mattresses, too much firmness can actually exacerbate arthritis pain by putting extra pressure on sensitive joints. A medium-firm or soft mattress is typically better suited for those with arthritis as it allows the spine to maintain its natural alignment while providing enough cushioning to reduce joint impact.
Do adjustable beds work well for people with arthritis?
Yes, adjustable beds can be beneficial for people who suffer from arthritis because they allow you to customize your sleeping position based on individual needs—including elevating the head and foot areas slightly which helps reduce stress on the spine and joint areas; this positional change encourages circulation in the body while keeping pressure off certain areas like shoulders or hips susceptible to pain during sleep.