Are you tired of sleeping on a lumpy and uncomfortable RV mattress? Are you looking to upgrade your sleeping situation without breaking the bank? If so, you're not alone. Many people who own an RV struggle with getting a good night's sleep due to the less-than-comfortable mattresses that come standard in most vehicles.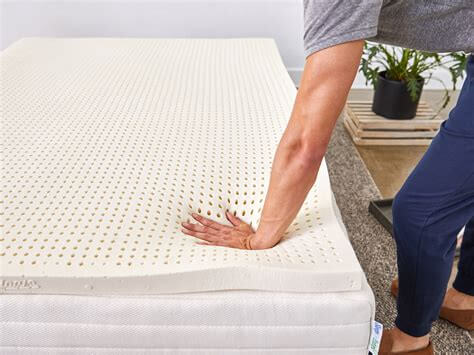 The good news is that there are plenty of options available when it comes to upgrading your RV bed. One affordable way to improve the comfort level of your mattress is by investing in a high-quality mattress topper. In this article, we'll take a look at some of the best mattress toppers for an RV bed that will help you get a better night's sleep while on the road.
Why You Need a Mattress Topper for Your RV Bed
Before we dive into our list of top picks for RV mattress toppers, let's first discuss why they are necessary. The truth is, many standard RV mattresses are made from low-quality materials that can wear out quickly and provide little support or cushioning.
A mattress topper provides an extra layer of padding and support between yourself and your existing mattress, effectively improving its overall quality without having to replace it entirely. Additionally, many modern mattress toppers are designed with breathable materials like gel-infused memory foam or cooling bamboo fabric which can help regulate body temperature during hot summer nights.
So if you're struggling with back pain or restless nights in your current setup, investing in one of these products could be just what you need.
Choosing The Right Mattress Topper For Your Needs
When selecting the right type of rv bed pad for your needs several factors must be considered before making any purchase:
1) Size – ensure that any product selected fits snugly onto your existing rv bed base
2) Thickness – thicker foams create more cushioning but also have a slower response time in adjusting to body shape
3) Material – breathable materials like memory foam and bamboo can help reduce heat build-up, whilst latex is longer-lasting
Now that we've covered why you need an RV mattress topper let's take a closer look at some of the top choices on the market today.
Best Mattress Toppers for Your RV Bed
Zinus Green Tea Memory Foam Mattress Topper: The Zinus Green Tea Memory Foam Mattress Topper is a popular choice among RV enthusiasts due to its affordability and superior comfort level. This product features gel-infused memory foam which conforms to your body shape while also regulating temperature during hot summer nights. It comes in various thicknesses from 1 inch up to 4 inches thick with queen size pricing starting under $100.
Sleep Innovations Gel Memory Foam Mattress Topper: The Sleep Innovations Gel Memory Foam Mattress Topper is another excellent option for people looking for extra comfort without breaking the bank. This product uses 2-inch thick gel-infused memory foam, providing firm support and pressure relief while still being soft enough not to cause discomfort or pain. Its contour cut design ensures proper spinal alignment and comes with a removable washable cover.
Lucid Bamboo Charcoal Memory Foam Mattress Topper: If you're someone who prefers natural materials that are eco-friendly and hypoallergenic, then this may be the perfect product for you! Made from 100% bamboo charcoal infused memory foam, it's designed specifically for those who suffer from allergies or sensitive skin types as it promotes breathability through its small ventilation holes throughout the surface area of each layer.
PlushBeds Natural Latex Topper: For those looking for sustainability and long term value & comfort over budget cuts then PlushBeds' natural latex mattress pad should come into consideration – naturally mold-resistant making pillow fight against humidity and temperature changes, it is designed to be resilient as well for long lasting durability, whilst also offering a firm supportive cushioning experience.
SnugSoft Elite Wool Mattress Topper: Perfect for those cold nights out on the road, this wool mattress pad offers a soft and plush feel that can keep you warm even in chilly weather conditions. Made from 100% natural Merino wool that is hypoallergenic and breathable, this product offers excellent insulation against harsh winter temperatures.
Benefits of Investing in an RV Mattress Topper
Investing in one of these top-quality mattress pads offers several advantages such as:
1) Increased comfort – enjoy a better night's sleep with ample support perfect for different sleeping postures.
2) Better temperature control – reduce heat build-up during warmer weather conditions
3) Affordability – invest fractionally when compared to completely replacing your existing rv bed
4) Longevity & Durability – extend the life span of your original RV bed
In conclusion, upgrading your RV mattress doesn't have to cost an arm and a leg or require complete replacement. By investing in one of these high-quality RV mattress toppers, you can improve your sleeping situation without breaking the bank! Just remember to consider all relevant factors before making any purchase decision so choose wisely based on what works best with both personal needs and preferences.
FAQs
Q: How thick should an RV mattress topper be?
A: The thickness of the topper depends on your personal preference and how much support you need. Generally, a topper between 2-4 inches in thickness is recommended for RV mattresses. Keep in mind that thicker toppers may not fit in all RV bed frames or storage areas, so measure beforehand.
Q: Can I use a memory foam topper if it's hot outside?
A: Memory foam can retain heat and feel too warm on hot summer nights. If you're camping in warmer climates, look for memory foam with cooling gel infusions or ventilation holes that allow air flow.
Q: Is it necessary to get a waterproof mattress topper for my RV bed?
A: It's always better to be safe than sorry when it comes to protecting your mattress from spills, leaks or accidents while camping. A waterproof mattress protector can help prevent moisture buildup and mold growth inside your camper due to humidity levels inside the vehicle during travel.
Remember, before purchasing any new sleep product for your RV, double check the size measurements of your existing bed frame and also make sure that the material of the mattress pad/hybrid/cushion meets any specific needs of yours such as cooling technology or eco-friendliness.